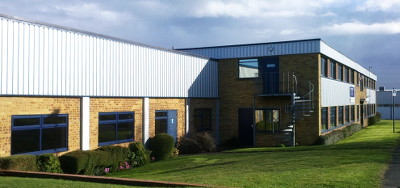 TTid (Thurlby Thandar instrument distribution) is the UK sales division of TTi Ltd and is one of the largest distributors of test and measurement equipment in the UK, representing many leading American, European and Japanese manufacturers.
Aim-TTi (Aim & Thurlby Thandar Instruments) is the design and manufacturing division of TTi Ltd. Full information for Aim-TTi products, including datasheets, is available on this web site, but non-UK customers and those seeking Aim-TTi support or resources (manuals, firmware etc.) should visit
aimtti.com
Contact Information
TTid
Thurlby Thandar Instrument Distribution,
Glebe Rd, Huntingdon,
Cambridgeshire,
PE29 7DR,
United Kingdom

Tel: +44 (0)1480 412451
Fax: +44 (0)1480 450409
Email: sales@ttid.co.uk

Office Hours: 08:30 to 17:15 Monday to Thursday, 08:30 - 12:30 Friday, UK time.
---
Regional Representatives
---
Jobs at TTid
For current vacancies at TTid, please see the
jobs page
---
Directions
Get directions in Google Maps
GPS Link:
52.3440232,-0.1836769
By car:
TTid is located in Huntingdon which is close to the junction of the A1 and A14 to the north-west of Cambridge. From the A14, take the Northern Huntingdon exit (not Godmanchester) and enter Huntingdon via the A141. Follow signs to the Town Centre. Turn left at the traffic lights under the railway bridge onto St. Peters Road. Glebe Road is a service road on the right which runs parallel to St. Peters Road from which the TTi building is clearly visible.
By Train:
Huntingdon station is on the East Coast Main Line and is easily reached from London King's Cross station. Trains are frequent, typically two every hour. The journey time is around one hour from London. On arrival, taxis from the station are readily available and take only five minutes to reach the TTi building.
Airports:
Huntingdon is around 100km north of London and around 90 minutes journey time by car from London Heathrow airport. If travelling by car from Heathrow, follow signs for the M25 (direction: the North/M1) and join the A1 Northbound. Exit at the junction with the A14 and follow the directions above. If travelling by train, travel into London and take a train from King's Cross station (see above). London has four airports, Heathrow, Gatwick, Luton and Stansted. The nearest to Huntingdon is Stansted Airport which is around 55 minutes away by car (use M11 North) - rail links from Stansted are quite difficult.
---
Company History
The origins of TTi Ltd. date from the late 1970s when two separate companies, Thurlby Electronics Ltd. and Thandar Electronics Ltd. were both designing and manufacturing electronic test equipment within close proximity at St. Ives in Cambridgeshire.
Through the 1980s, Thurlby specialized in bench power supplies, high resolution multimeters and digital storage units; whilst Thandar specialized in function generators, frequency counters and logic analysers.
In 1989 the two companies were merged into a new organization - Thurlby Thandar Instruments Ltd. - and located to larger premises in nearby Huntingdon.
Since that date the product ranges have been expanded and new product areas developed including arbitrary waveform generators, RF test equipment, EMC measurement equipment and component bridges.
Most recently, Aim Instruments has been acquired which produces innovative measurement products using leading edge technology. The combined product range is marketed under the Aim-TTi brand.
TTid (Thurlby Thandar instrument distribution) is the UK sales division of TTi Ltd. and distributes a wide range of other manufacturer's products making TTid is one of the largest distributors of test and measurement equipment in the UK.
TTi Ltd. is an ISO9000 registered company and maintains the highest quality standards for all of its activities.

---
Company Information
Thurlby Thandar Instruments Limited is a Private Limited Company registered in England and Wales, company number 02434384
TTi Distribution Limited is a Private Limited Company registered in England and Wales, company number 08893036
Registered Address for both companies: 2 Glebe Road, Huntingdon, Cambridgeshire, PE29 7DR, England