20% Off R&S®FPC EMI Debugging Solutions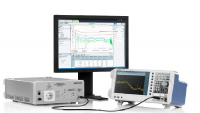 Unexpected performance in entry class.
20% discount
off all hardware and software items when ordered as a complete EMI Debugging Solution.
Any combination of models are eligible, cannot be combined with any other promotion.
Choose your recommended EMI Debugging Solution for conducted + radiated measurements, conducted measurements or radiated measurements.
Select your hardware options.
Select R&S®ELEKTRA EMI Test Software - Professional EMI software for measuring electromagnetic disturbances.
One stop shopping with Rohde & Schwarz.
Contact Us
or
Call 01480 412451
to find out more.
Links and Resources
---
Posted
Monday 26th of July 2021