Up to 20% off R&S Essentials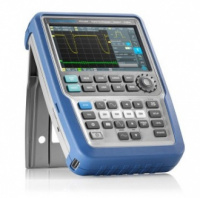 GET A NEW HANDHELD OSCILLOSCOPE R&S®RTH PROMOTION
ANALYZE YOUR HISTORY AND SAVE 20% ON THE R&S®RTH PORTABLE OSCILLOSCOPE
The R&S®RTH combines the performance of a lab oscilloscope with the form factor and ruggedness of a portable device. It offers
isolation of all analogue input channels, allowing for maximum safety even in CAT IV environments.
Benefit from the time-limited promotion and receive a 20% discount on the 200 MHz bandwidth models.
The promotional prices are valid from June 1, 2021 to March 1, 2022.
Contact Us
or
Call 01480 412451
to find out more.
Links and Resources
---
Posted
Tuesday 1st of June 2021