Battery Tech Expo 2020
ARCHIVE CONTENT
The content below is no longer current and may not be applicable or relevant.
---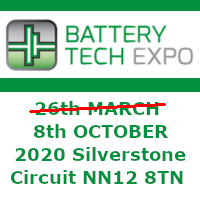 Visit us at Battery Tech Expo, stand A07, Silverstone, 26th March 8th October 2020
The Battery industry is on the cusp of a power revolution with big technology companies investing heavily in the next generation of battery development and energy storage.
The Battery Tech Expo UK will provide a unique opportunity to showcase the latest products, technologies and services covering Battery Management Systems, EV Batteries, Battery Storage, Battery Development/ Discovery, Commercial and Mobile Power Device sectors.
As you will have guessed, the expo has had to be delayed until October because of the virus and anticipated restrictions on public events.
TTid will be showcasing regenerative/bi-directional loads & sources and battery test systems. Come and have a chat.
Find out more:
https://www.batterytechexpo.co.uk/
Free Registration:
https://www.eventbrite.co.uk/e/battery-tech-expo-uk-2020-silverstone-tickets-61861829397
---
Posted
Wednesday 11th of March 2020