Chroma announce 62000D Series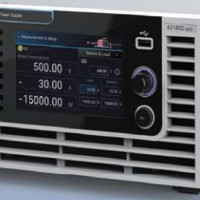 The 62000D DC power supplies provide both power source and regenerative load features.
Chroma have announced the upcoming 62000D series programmable two quadrant power supplies designed for applications such as charge/discharge testing and life cycle testing of such devices as electric vehicle bidirectional on-board chargers (BOBC), DC-DC converters and power conversion systems (PCS). The flexibility of the design makes it ideal for battery simulation and motor driver testing and is pre-compliant with LV123 and LV148 standards. The 62000D can switch seamlessly between the two quadrants of supply and electrical load without changing the output characteristics or causing damage making it ideal for simulating a battery system when testing the acceleration and braking of electric vehicle motor drivers.
The range will include 9 different models from 6kW to 18kW in 3U rack space. Output current ratings are up to 540A and voltage ratings up to 1800V
DC.
Up to 10 units can be paralleled in a master/slave configuration to easily and safely provide up to 180kW. At these power levels, the ability to feed back absorbed energy to the grid becomes a major cost benefit. The 62000D series can feed back power to the local grid with up to 93% efficiency and can operate in constant voltage, constant current or constant power mode. The ability to do this not only saves energy that would otherwise be lost as heat which may have to be removed by air-conditioning, but also saves space and reduces noise as the unit doesn't have to have as large heatsinks and fans to dissipate the heat.
For more information and a preliminary data sheet, visit the product page (link below).
---
Posted
Wednesday 13th of May 2020