ElectroTestExpo 2019
ARCHIVE CONTENT
The content below is no longer current and may not be applicable or relevant.
---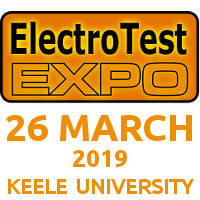 Catch up with the latest test technology and discuss your production test issues
WHAT:
Test and Debug exhibition and seminars
WHEN
: From 9AM, Tuesday, March 26
th
2019
WHERE
: Keele Hall, Keele University, ST5 5BG
HOW
: please register at
www.electrotestexpo.co.uk
HOW MUCH
: Free to attend
This event is organized and manned by engineers for engineers. An inspiring seminar program will cover a wide range of test topics and there will be experts in many fields to chat to. From JTAG/Boundary Scan to AOI and system switching, we have the technology that you need to know about. The event is free to attend and refreshments will be provided.
Exhibitions of the latest bench T&M and ATE
Device programming solutions for flash, FPGAs and micros
RF instrumentation
PXI and JTAG based ATE
Inspection (AOI) systems
Central location and free parking
Free consultations with industry experts
For further details please email
info@electrotestexpo.co.uk
---
Posted
Tuesday 15th of January 2019