Free IR lens with Fluke thermal imager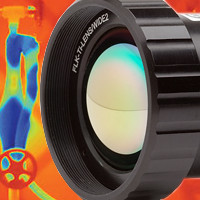 Get a free wide angle or telephoto lens with selected Fluke thermal imagers.
For a limited period, you can buy a Ti450, Ti400 or Ti300 Professional Series thermal imager and get a free lens, either telephoto or wide angle. These lenses have pure germanium optics with anti-reflective coatings that are precision diamond ground for use at the specific wavelengths of infra-red used by these imagers and have a recommended price of over £1000. The telephoto lens enables you to get usable images from further away from dangerous or inaccessible machinery, while the wide angle lens is particularly useful for monitoring through IR windows where the angle of view is otherwise too restrictive.
This offer is for promotional kits that are only available until the end of March 2019. Please contact us for details.
---
Posted
Tuesday 16th of May 2017