NEW California Instruments Sequoia series
ARCHIVE CONTENT
The content below is no longer current and may not be applicable or relevant.
---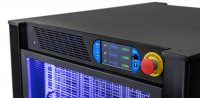 Advanced platform of high-power programmable regenerative grid simulators
The California Instruments Sequoia Series combines intelligence and flexibility with high power to create an advanced platform of AC solutions. Using a state-of-the-art SiC power switching architecture, this full four-quadrant product combines compactness, robustness, and functionality in a floor-standing chassis. This easy-to-configure power product covers a wide spectrum of single and multi-phase AC or single channel and multi-channel DC power applications at an affordable cost. With the add-on electronic load option, the Sequoia Series can support additional advanced renewable energy simulation and test requirements.
• Dual Voltage ranges that support over voltage testing on 480V based systems
• Instrument Setups for quickly re-establishing the known instrument state
• 500uS time resolution for Transients
• Virtual Panels control software included
• Non-Linear current waveform programming during Load mode
• Phase coordination among multiple units (LKM/LKS)
• Powerful set of analogue controls for PHIL and Modulation tests
• Trigger In & Out to permit extensive coordination with external systems
• Extensive Onboard diagnostics
• Digital I/O, including RS232, USB, Ethernet (GPIB optional)
• Intuitive 5" colour display for ease of navigation
• Auto-paralleling for maximum flexibility with multi-chassis configurations
• Separate terminal blocks for single phase and 3 phase outputs
Contact Us
or
Call 01480 412451
to find out more.
---
Posted
Tuesday 6th of December 2022