New LXI thermocouple interface with PoE+
ARCHIVE CONTENT
The content below is no longer current and may not be applicable or relevant.
---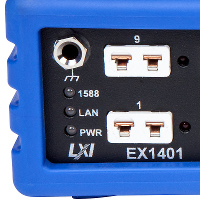 VTI instruments have announced a new thermocouple/voltage instrument with some interesting features
The EX1401 is a 16 channel isolated thermocouple and voltage measurement instrument in a 1U half rack form factor. With the combination of an LXI interface and the ability to be powered over PoE+, it opens the possibility of being located remotely, connected to the network with just one Ethernet cable. With the ability to acquire data at 20,000 measurements per second per channel, the EX1401 can be deployed in situations where rapid changes in temperature need to be tracked accurately.
The EX1401 measures with accuracies of ±0.2°C with 1000V channel to channel isolation. It has self test capabilities as well as independent cold junction compensation (CJC) and 24-bit ADCs per channel.
---
Posted
Monday 5th of June 2017