New Precision Power Analyzers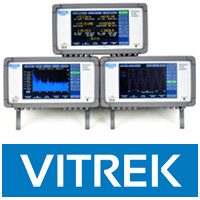 Vitrek announce two new high precision multi-channel power analyzers, the PA910 and PA920
Following on from the success of the PA900 four channel harmonic power analyzer, Vitrek have announced two new models in the same format, the PA910 and PA920. Both are 4 channel frames that accept from 1 to 4 input cards with different characteristics to suit different applications. The headline news here is that the PA920 sets a new standard for accuracy (0.024% of reading when fitted with "UT" input cards). It integrates an ultra-high accuracy, wideband waveform digitizer with advanced computational capability controlled from a 7" colour touchscreen user interface. The multi-channel PA920 offers unprecedented 0.024% power measurement accuracy for all four channels, innovative VPA architecture, 100 full precision readings per second and measurement bandwidths sufficient to handle 5 MHz signals. The unit's intuitive touchscreen operation — with built-in data history, scope mode and waveform zoom — allows users to explore many aspects of power measurement in great detail.
The PA920 delivers waveform visualization and measurement results necessary to validate the performance of power critical designs, such as LED lighting, solar power inverters, electric vehicles and aviation power distribution. Its Virtual Power Analyzer (VPA) functionality facilitates efficiency measurements. The PA920 can measure and display up to the 500th harmonic (even at aircraft frequencies) and provides multi-unit linking for complex efficiency and synchronous measurement applications. Integrated routines facilitate compliance testing to a selection a performance standards including: EN60034-2-1:2014 (motor drives); EN50564:2011 (standby power); EN61000-3-2 and 3-12 and 4-7 (harmonics emissions); RTCA DO-160E/F/G (avionics); Boeing 787B3-0147; Airbus ABD0100.1.8 (A380) and ABD0100.1.8.1 (A350) and more.
In addition to the PA920, Vitrek is also introducing the PA910 which offers accuracies of 0.045% power for applications where ultra-high accuracies are not required. Both the PA920 & PA910 are available as pre-configured or custom-configured units containing 1-4 channel cards.
Contact Us
or
Call 01480 412451
to find out more.
---
Posted
Thursday 31st of October 2019