New product range: Chroma
ARCHIVE CONTENT
The content below is no longer current and may not be applicable or relevant.
---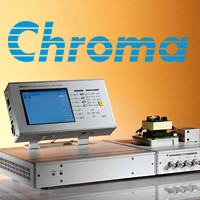 TTid has added the Chroma range of power products and measurement systems to its portfolio
From its beginnings in 1984 as a manufacturer of video test pattern generators to the present as one of the largest manufacturers of production automation equipment, Chroma has a history of producing capable industrial equipment at very competitive prices.
TTid has now added the Chroma ranges of AC and DC power supplies, electronic loads, component measurement and power analyzers to its portfolio. With Chroma's expertise in industrial automation, it's not surprising to find products that are optimized for production line use, with appropriate speed and automation capabilities, but many are equally at home in research and development applications where the depth of their measurement and simulation capabilities are appreciated.
---
Posted
Friday 9th of June 2017