New RT-Z2T TekProbe adapter from R&S
ARCHIVE CONTENT
The content below is no longer current and may not be applicable or relevant.
---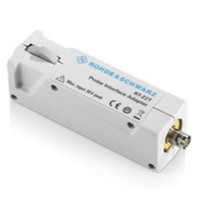 New adapter from R&S makes it possible to use Tektronix probes on R&S 'scopes
The RT-Z2T probe interface adapter allows selected Tektronix TekProbe Interface Level II probes to be used with some R&S oscilloscopes. Preliminary information suggests that the adapter will already work with the RTM3000 Series oscilloscopes from firmware version V1.30 and with the RTA4000 Series with firmware V1.10 (both already released). The RTE1000 and RTO2000 series are planned to support the new adapter with firmware version V4.15 planned for August 2018.
The following probes are supported:
Single-ended active probes (without offset control)

P6205: 750 MHz, 10:1
P6243: 1 GHz, 10:1
P6245: 1.5 GHz, 10:1
P6241: 4 GHz, 10:1
P6249: 4 GHz, 5:1

Current Probes

TCP202: 50 MHz AC/DC Current probe

Differential Active Probes (without offset control)

P6246: 400 MHz, 10:1 / 1:1
P6247: 1 GHz, 10:1 / 1:1
P6248: 1.5 GHz, 10:1 / 1:1
P6250: 500 MHz, 50:1 / 5:1
P6251: 1 GHz, 50:1 / 5:1

High-voltage Differential Probes

P5205: 100 MHz, 50:1 / 500:1
P5210: 50 MHz, 100:1 / 1000:1

Electro-optical probes

P6701B: 1 GHz
P6703B: 1.2 GHz
P6711: 250 MHz
P6713: 300 MHz
On the oscilloscope, with the appropriate firmware loaded, the user can select the attached probe type in order to get the right attenuation factor. Offset control is not supported:
The adapter is expected to be available from August 2018. We'll put more information here when we have it.
---
Posted
Thursday 28th of June 2018