New SL Series Models from Magna Power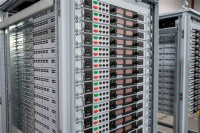 Magna Power SL Series Programmable DC Power Supply Now Offering 10kW in only 1U
Magna-Power expanded its popular
SL Series programmable DC power supply product line with the introduction of 18 new models at 10 kW rated output power, while maintaining the product line's 1U (1.75" high) rack-mount form factor. The SL Series continues to lead 1U rack-mount programmable DC power supply power density, enabling extremely power dense rack-mount integrations, with continuous full-power operating at ambient operating temperatures from -25°C to 50°C and zero clearance required on top and bottom. The 18 new SL Series models span rated voltages up to 1500 Vdc and rated currents up to 250 Adc, with three-phase AC input options including: 208 Vac, 240 Vac, 380/400 Vac, 415 Vac, 440 Vac, or 480 Vac.
127 models
1U rack-mount
1.5 kW, 2.6 kW, 4 kW, 6 kW, 8 kW, 10 kW power levels
5 Vdc to 1500 Vdc output voltage
1.5 Adc to 250 Adc output current
UL/CSA listed, CE Mark
Designed and manufactured in the USA
Contact Us
or
Call 01480 412451
to find out more.
---
Posted
Thursday 10th of June 2021