New Tektronix 5 Series MSO is out
ARCHIVE CONTENT
The content below is no longer current and may not be applicable or relevant.
---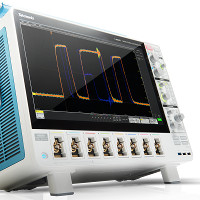 Tektronix reveal their new 15.6" multi-touch HD screen MSO with up to 8 FlexChannel inputs
The new 5 Series MSO is a significant release for Tektronix, moving the bar up in user interaction with the use of a full HD (1920 x 1080 resolution) multi-touch screen and intuitive user interface.
The three new models, MSO54, MSO56 and MSO58 have 4, 6 and 8 inputs respectively. The inputs in question are "FlexChannel" which can be used as either a single analogue input or 8 digital logic inputs when using the TLP058 logic probe. Bandwidth options take the instrument from 350MHz up to 2GHz via 500MHz and 1GHz.
The record length starts at 62.5Mpoints on all analogue/digital channels and can be expanded by an optional upgrade to 125Mpoints. As you would expect, all the standard functionality is there (multiple trigger modes, cursor types, display modes etc.), but it can also be expanded with an arbitrary / function generator option, six different families of serial bus decode and analysis, and there's even an advanced jitter and eye diagram analysis option.
To find out more
Contact Us
or
Call 01480 412451
or head on over to the product page and download the datasheet to find out the details.
---
Posted
Tuesday 6th of June 2017