New TS Series Models from Magna Power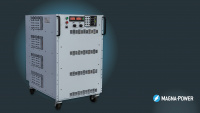 TS Series Programmable DC Power Supply Now Offering 75 kW in 12U and 100 kW in 16U.
Magna-Power expanded its TS Series programmable power supply line to include 54 new models at 75 kW in 12U and 100 kW in 16U, with models up to
6,000 Vdc
and
8,000 Adc
. The new models features a new mechanical design for standalone operation on provided casters, while an included rack-mount kit allows them to also be installed into a standard 19" enclosure. In addition, an all new output bus bar design and new 1,000 Adc Magna-Power cables ease integration for high-current systems.

Key Facts
275 models
3U to 16U rack-mount
5 kW to 100 kW power levels
5 Vdc to 6000 Vdc output voltage
0.8 Adc to 8000 Adc output current
SCPI Remote Programming API
High Accuracy Measurements
Programmable Protection Limits
NI LabVIEW™ and IVI Driver
Contact Us
or
Call 01480 412451
to find out more.
---
Posted
Wednesday 22nd of September 2021