New VTI programmable resistors
ARCHIVE CONTENT
The content below is no longer current and may not be applicable or relevant.
---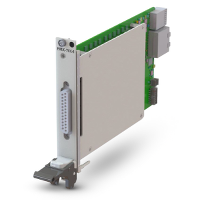 VTI instruments have announced the EMX-7000 series PXIe precision programmable resistor ladder cards
The EMX-70XX series provides 4 independent channels of programmable resistors and can be used to simulate sensors, potentiometers, thermocouples, pressure sensors, strain gauges, and more. It easily integrates into functional test applications in automotive, aerospace, and medical settings, and can even be used for fault insertion or as a low-power load simulator. Connect channels in series or parallel to increase range or to simulate potentiometers as needed.
Please refer to the data sheet below for more information.
---
Posted
Tuesday 11th of April 2017