Rohde & Schwarz Special Edition Scopes for Education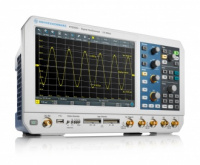 R&S®RTC1000 AND R&S®RTB2000 OSCILLOSCOPES FOR EDUCATIONAL NEEDS
Rohde & Schwarz has created special editions of its most popular oscilloscopes for educators. Universities and educational institutions can now access technology with attractive prices for R&S®RTC1000 and R&S®RTB2000 oscilloscopes. The Rohde & Schwarz EDU edition unlocks all available software options, providing educators with highly functional equipment and significant savings.
Rohde & Schwarz EDU edition benefits:
► Oscilloscope models include the R&S®RTC1002, the
R&S®RTB2002 and the R&S®RTB2004
► 30 % to 50 % higher savings compared to purchases
with regular educational discount
► EDU oscilloscope options: arbitrary waveform generator
and pattern generator options, triggering and decoding
(T&D) for I²C, SPI, UART/RS-232/RS-422/RS-485, CAN
and LIN signals
► History and segmented memory, frequency
response analysis (Bode plot) on R&S®RTB2002 and
R&S®RTB2004 oscilloscopes
Contact Us
or
Call 01480 412451
to find out more...
Links and Resources
---
Posted
Monday 2nd of August 2021