Tektronix announce a new USB VNA
ARCHIVE CONTENT
The content below is no longer current and may not be applicable or relevant.
---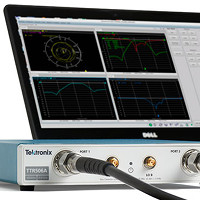 By moving the control and display into a USB attached PC, Tektronix have substantially reduced the price of vector network analysis
The TTR500 Series is a 2-port, 2-path vector analyzer in a form factor a little smaller than a ream of A4 paper and weighing around a kg less at 1.6kg. It connects to the host computer by a USB 2.0 connection and is operated by VectorVu-PC™ software that runs on Windows® 7 or later, 64bit operating systems. There are two models: TTR503A with a frequency range from 100 kHz to 3 GHz, and the TTR506A which goes from 100 kHz to 6 GHz. With a dynamic range of better than 122dB, output power from -50 to +7 dBm, and better than 0.008 dB RMS trace noise, performance has not been compromised.
Find out more using the links below:
---
Posted
Tuesday 25th of April 2017