Asterion DC Announced
ARCHIVE CONTENT
The content below is no longer current and may not be applicable or relevant.
---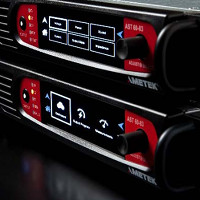 Following on from the success of the Asterion AC/DC, a dedicated DC range is launched
Like the Asterion AC family launched by Ametek Programmable Power under their California Instruments brand, the Sorensen Asterion DC Series uses a high power density 1U rack format, even for models up to 5kW. Asterion DC Series supplies offer rated output voltages in 40 V and 60 V for 1.7 kW, 3.4 kW and 5.0 kW power levels. The new DC series features two types of product lines: fixed range and autoranging. The fixed range supplies are economical, traditional power supplies with fixed maximum voltage and current and all the enhanced operation advantages standard with the Asterion platform. The autoranging supplies feature expanded current and voltage limits within a fixed output power envelope, enabling the ability to satisfy a wider range of testing needs without requiring the purchase of additional models.
The Asterion DC Series is Digital Signal Processor (DSP) controlled via a multilingual front panel touchscreen. An auto-paralleling capability means that multiple units can be combined and controlled in parallel to increase the total output power.
Automation interfaces include LXI Ethernet, USB and RS-232 as standard, as well as an optional GPIB control interface for legacy applications.
See the product page (link below) where a datasheet is available, or
Contact Us
or
Call 01480 412451
for details.
---
Posted
Thursday 18th of October 2018