New 12 and 18 kVA Asterion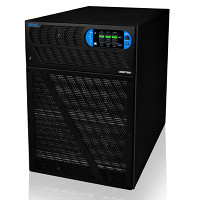 California Instruments announce 14U Asterion programmable AC power sources
The two new models AST12K3 and AST18K3 supply AC and DC power up to 12 and 18 kVA or kW respectively. Both units can supply single or three-phase output power from a three-phase input. As with the other models in the range, the new models feature California Instruments / AMETEK programmable Power's iX2™ current-doubling technology allowing the available current to double as the output voltage halves, effectively giving a greater range of voltage and current within a fixed power envelope. In the case of the AST12K3 up to 40A at 100 VAC is possible in low range or 10A at 400 VAC in high range (RMS per phase). Likewise the AST18K3 is capable of 60A at 100VAC or 15A at 400 VAC RMS per phase. Output current is tripled in 1-phase mode.
Most of the Asterion range is available either with a touchscreen control interface as the "E" (Enhanced) version or without the control interface as the "A" (ATE) version. The latter are either controlled by a computer over one of the provided automation interfaces (LAN, RS232 or USB) or are used as slaves in a multi-chassis package where the control interface is not needed. The new 14U models are not available as ATE versions and all include the touchscreen control interface as standard.
In addition, lower cost "ASC" versions of the AST12K3 and the AST18K3 are also available as the ASC12K3 and ASC18K3 for situations where DC output is not required. These are capable of up to 312V AC. Harmonic measurements with arbitrary waveform generation is an option on these models and avionics tests options and MIL-STD 1399 are not available.
As an expression of the confidence that AMETEK Programmable Power have in the quality and reliability of the Asterion units, the entire range of Asterion AC power sources now comes with a 5 year warranty, matching the warranty of the Sorensen branded 1U Asterion DC supplies.
---
Posted
Wednesday 9th of October 2019