New Asterion 4.5 and 6kVA units
ARCHIVE CONTENT
The content below is no longer current and may not be applicable or relevant.
---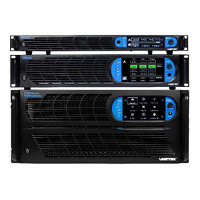 California Instruments announce new 4U Asterion AC & DC Power Supplies
The Asterion 4503 is a 4500VA unit while the 6003 provides up to 6000VA. Both units are 4U and can supply either single or three-phase power.
Like the other models in the series, the 4503 and 6003 combine performance with control. Auto-Paralleling allows up to six units to be combined with one controlling the rest to make a system of up to 36kVA. The clock/lock feature makes it possible to configure multi-phase systems such as split-phase, three-phase or even higher phase count systems. A side benefit of these features is that a system can be expanded at later date to provide more power or additional phases as needed. Additional savings can be made by ordering the slave units without front panel controls.
AMETEK / California Instruments developed an entirely new intuitive touch screen user interface for Asterion for quick and easy configuration and operation. A complete avionics test suite is available as an option with programmable frequency between 16Hz and 5kHz.
Asterion comes with LXI LAN, USB and RS-232 interfaces as standard and GPIB as an option. Virtual Panels control software comes bundled with the instruments, as are drivers for integration into ATE systems.
Visit the product page (link below) for the data sheet or
Contact Us
or
Call 01480 412451
for more information.
Links and Resources
---
Posted
Wednesday 6th of March 2019