New Chroma 62000E Power Supplies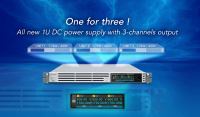 One for Three! All-new 1U DC Power Supply with 3-channel Output
Chroma ATE launches the 62000E series of 1U DC power supplies with 3-channel output. This brand new addition to Chroma's line of power supplies adopts full digital circuit control and high-power SiC MOSFET power devices as well as high-speed stability, high-power density, and 92% high efficiency. The 28 models offer either single-channel or 3-channel output, output power from 1.7kW to 5kW per channel, voltage output ranging of 230V to 1200V, and output current up to 22.5A.
Voltage rating: Up to 1200V
Current rating: 22.5A max.
Single output models: 1.7kW, 3.4kW, 5kW
Multiple output models: 3 x 1.7kW channels in 1U
Master/slave parallel up to a max of 20kW
Fixed or Auto-ranging output models
Auto sequence programming
CV/CC modes priority
High-precision measurement
High speed transient response <1ms
Low output ripple & noise
Intuitive and user-friendly touch screen
Standard USB/LAN/LXI interfaces
Optional APG, CAN FD, GPIB, and master/slave parallel control interfaces
AC input: 1-phase/3-phase 200~240Vac or 3-phase 380~400Vac (model dependent)
Contact Us
or
Call 01480 412451
to find out more.
---
Posted
Monday 31st of January 2022