New compact scope
ARCHIVE CONTENT
The content below is no longer current and may not be applicable or relevant.
---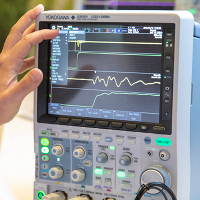 Yokogawa launch the DLM3000 series of compact mixed signal scopes
The DLM3000 is a compact footprint "portrait" aspect ratio 'scope with an 8.4" touch screen available with either 2 or 4 channels. The four channel version can use the fourth channel as an 8 bit logic input. Bandwidth options are 200, 350 and 500MHz.
The DLM3000 follows on from the DLM2000 which has proven popular with developers of power electronics, car electronics, and mechatronic devices and adds new functions aimed at those who are developing technologies for electric vehicles (EVs) and efficient power electronics.
Even when simultaneously measuring on every channel, they can maintain a maximum sampling rate of 2.5 G/s (giga sampling/second). Improved hardware design has resulted in the residual noise being reduced by 50%, the measurement sensitivity setting range being extended to 500 µV, and the maximum input voltage being extended to 300 Vrms, enabling the DLM3000 to more accurately observe signal waveforms over a wider voltage range. Measurement of high speed signals over longer periods of time generates a lot of data. The DLM3000 supports the USB3.0 standard and is able to transfer large amounts of data at high speed.
A wide range of options is available, including memory upgrades, data storage, GPIB interface (USB and LAN are standard), user defined maths and power supply analysis functions, trigger and analysis functions for a range of digital protocols including UART, I
2
C, SPI, CAN, CAN FD, LIN, FlexRay, SENT and CXPI. There's even an option for a built in printer.
Contact Us
or
Call 01480 412451
to find out more, or visit the product page, linked to below, where the datasheet is available.
---
Posted
Tuesday 23rd of October 2018