New Real-Time Oscilloscope from Pico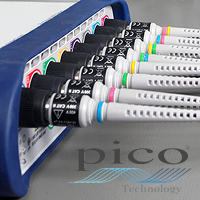 Pico Technology announce their most advanced real-time oscilloscope yet; the PicoScope 6000E.
The speed with which Pico Technology develop ever more powerful oscilloscopes is partly down to the same reason that they make so much sense from a buyer's perspective: the hardware and software are decoupled. The software continuously evolves, growing ever more sophisticated and making use of the ever increasing power of computers. The hardware evolves separately, making use of the newest components and design techniques and faster interfaces connect the two. You see this clearly with the PicoScope 6000E: it uses the same PicoScope software that users are familiar with, now at version 6, but now it is able to make use of 4K resolution displays for massively detailed multiple views of higher channel counts and enormous data sets. Undoubtedly the software will continue to evolve, protecting your investment in the hardware, and now the hardware is connected with USB3.
The hardware makes use of techniques such as FlexRes®, enabling you to decide whether you need more resolution or more bandwidth. In the case of the 6824E, you choose from 8,10 or 12 bit resolution. You can also share the hardware between the channels to either have more channels at reduced sample rates or fewer channels at higher sample rates. The 6000E series provides 8 analogue channels plus 8 or 16 high performance digital channels (optional). It has up to 4GS sample memory, and provides up to 500MHz bandwidth in an 8 channel PicoScope for the first time. The 6000E series has far too many features to shake a stick at. For a more in-depth view, head over to the product page (link below) where the datasheet and pricing is available.
Please note that the 6000E doesn't replace the 6000C and 6000D 4-channel models which continue to be available.
As always,
Contact Us
or
Call 01480 412451
to find out more.
---
Posted
Monday 24th of February 2020