New Rohde & Schwarz ZNH Series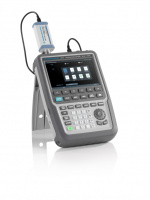 The NEW Rohde and Schwarz ZNH series handheld Vector Network Analysers are now available from TTid.
Handheld vector network analyzer with models from 4 to 26.5GHz bandwidth. The ZNH is a full two-port handheld vector network analyzer (VNA) that offers one-port cable and antenna measurement and full two-port S-parameter measurements. The touch based interface simplifies operation and a configuration overview menu makes measurement preparation more efficient.
Frequency range from 30 kHz to 4/8/18/26.5 GHz
One-port cable and antenna measurement with basic instrument
S-parameter (S11, S12, S21, S22) measurement with basic instrument
100 dB (typ.) dynamic range for filter and antenna isolation measurements
Factory calibration over entire frequency range
Built-in receiver step attenuator to increase port input power range linearity
Built-in DC voltage supply (bias) for active components such as amplifiers
Easy handling due to low weight (3.1 kg with battery) and spaced out function keys
Fast boot time, non-reflective display, small form factor, ruggedized housing (IP51)
7" colour touchscreen display for intuitive operation with smartphone-like gestures
Measurement wizard to speed up measurements and eliminate human error
Save measurement results onto an SD memory card or a USB flash drive
Easy and cost-efficient upgrades for all options via software keycode
---
Posted
Wednesday 13th of January 2021