New R&S High End Scope
ARCHIVE CONTENT
The content below is no longer current and may not be applicable or relevant.
---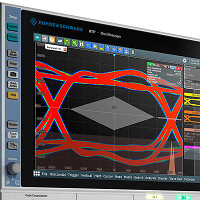 Rohde & Schwarz have announced a new 4 channel scope with models up to 8GHz
The new RTP series from Rohde & Schwarz is a 12" touchscreen, Windows 10 based oscilloscope that has been made with a lot of attention to detail without neglecting the basics. The frontend components enable an expandable oscilloscope platform from 4 GHz to 8 GHz. Dedicated acquisition and processing ASICs and a high-precision digital trigger provide an acquisition rate of approx. 1 million waveforms per second.
There are three base models, all four channel, with 4, 6 or 8 GHz bandwidth. The lower bandwidth models are upgradeable. There are four option slots that can be used to add MSO functionality or 18-bit high resolution voltage and current channels, all time correlated and controlled from the same user interface.
For more information, see the product page linked to below where the datasheet, brochure and videos are available,
Contact Us
or
Call 01480 412451
to discuss your requirements.
---
Posted
Friday 15th of June 2018