New SXRTO from Pico
ARCHIVE CONTENT
The content below is no longer current and may not be applicable or relevant.
---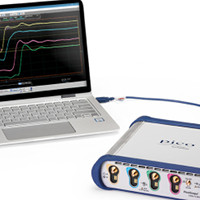 SXRTO?? Sampler Extended Real-Time Oscilloscope!
The PicoScope 9400 Series uses equivalent-time sampling (ETS) to capture high-bandwidth repetitive or clock-derived signals without the expense or jitter of a very high-speed real-time oscilloscope. The 5GHz bandwidth is matched by a guaranteed 70ps rise time. The ETS mode enables timing resolutions down to 1ps, and can quickly build waveforms with up to 2 million triggers per second. Although the 9404-05 has real-time sampling of 500MS/s, by repeatedly sampling a repetitive signal with random time offsets and building up a picture of what lies between the previous samples, the 9400 Series has a "Random Equivalent-Time Sampling" rate of 1TS/s. So what is an SXRTO? It's a Real-Time Oscilloscope which uses random ETS and an extended analogue bandwidth to provide a cost effective means of analyzing high bandwidth repetitive signals. In some senses, it is a hybrid between a standard real-time scope and a sampling scope such as the PicoScope 9300 series with a unique blend of features.
To find out more, visit the product page linked to below where a very informative data sheet is available and
Contact Us
or
Call 01480 412451
for further details.
---
Posted
Tuesday 12th of March 2019