R&S free bandwidth upgrade offer
ARCHIVE CONTENT
The content below is no longer current and may not be applicable or relevant.
---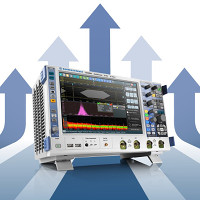 Get a free bandwidth upgrade for the RTO2000 or the RTP oscilloscopes and save up to 30%
Would you like to buy a high-bandwidth oscilloscope and save up to 30% on its upgrade? Then this promotions is right for you! Rohde & Schwarz will upgrade the bandwidth of your oscilloscope by one level for free when you purchase a 4 channel RTO2000 or RTP series oscilloscope.
This offer is valid from August 11, 2020 until December 31, 2020.
This oscilloscope promotion cannot be combined with any other discount scheme.
This offer is only applicable to 4 channel models of RTO2000 or RTP oscilloscopes.
Contact Us
or
Call 01480 412451
to find out more.
Links and Resources
---
Posted
Thursday 13th of August 2020