R&S fully loaded promotion
ARCHIVE CONTENT
The content below is no longer current and may not be applicable or relevant.
---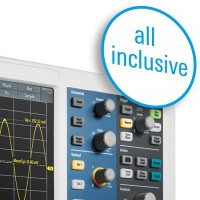 All options. One Price. Limited time.
Until June 30th 2020, Rohde & Schwarz is offering its entry-level products preloaded with all the available options at attractive bundle prices. You can get all the bandwidth, channels, memory, spectrum measurements and signal generation you need at your fingertips before your requirements change.
For some products, this promotion equates to very nearly half the price of the equivalent separate purchase of the base units and options, and, in the case of the RTA oscilloscope, this is a saving of very nearly €10,000. The offer applies to bundled packages of oscilloscopes, spectrum analyzers, power supplies, and power analyzers.

See the promotional flyer (link below), Contact Us or Call 01480 412451 to find out more.

Links and Resources
---
Posted
Wednesday 1st of January 2020