New ITECH IT6000 Series models
ARCHIVE CONTENT
The content below is no longer current and may not be applicable or relevant.
---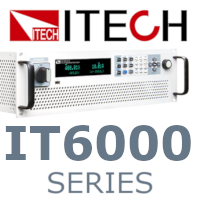 Bi-directional regenerative DC power source and sink with models from 5kW to 144kW
ITECH has added two new sub-series to the IT6000 series DC power sources. The new IT6000B and IT6000C series add the ability to switch seamlessly from source to sink, and even to regenerate with up to 94% efficiency. All units in the IT6000 series are high power density, with 18kW available from a 3U chassis and over 1MW available when units are paralleled with automatic current sharing. All are programmable with USB, CAN and LAN interfaces as standard and RS232/GPIB interfaces available as an option. All support list mode generation and can log directly to USB, but unlike the IT6000D series, the IT6000B and IT6000C series also support waveform modes including built in support for automotive waveforms (DIN40839, ISO16750-2, ISO21848, SAEJ1113-11 and LV124). The IT6000B and IT6000C also have solar panel I-V curve simulation and include a battery mode with selectable charge/discharge modes and various stop condition settings including stop voltage, stop current and stop capacity. They both can also support arbitrary waveforms, included importing from CSV files. To all this, the IT6000B adds a fully featured dedicated regenerative load mode selectable from a front panel button which provides CC/CR/CP/CV/CV+CC/CR+CC, dynamic mode, list mode and short mode. There's obviously a lot more to these units than we can do justice to here.
For specifications and details of other features, please visit the product pages linked to below where datasheets are available. Also below is a link to a comparison table listing the features of the IT6000B,C and D series.
As always, please
Contact Us
or
Call 01480 412451
to find out more.
---
Posted
Wednesday 6th of May 2020